I'm working on a really awesome project right now for my business www.digitalnomadapparel.com that involves some research. So like most things lately, I decided to ask my Fab Followers what influencers/people they follow that make a positive impact on their lives. Man oh MAN did I get a killer list of people to research and follow! Some of which I already follow, and some who I've never heard of before.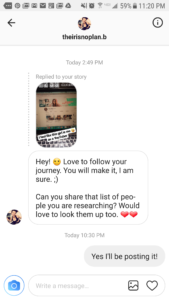 I started documenting on my Instagram stories some of the people I was discovering for the first time (MIND BLOWN moments were happening). And then I started to be asked "who is on the list? can you share what you're discovering with me?" So I decided to do one better by writing an entire blog post with these people. Some of which I LOVED and followed immediately, and some on the list I just crossed out completely because they didn't resonate with me.
Take this as you will, but here are the people I added who I think everyone should follow! Especially if they you want to be a creator/entrepreneur, this list is for you.
What Influencers To Follow

@TonyRobbins
Tony is such an icon. He's changed my life in so many ways since I've attended his live events. Unleash The Power Within was literally insane with the transformation I went through first, and then Date With Destiny goes super deep internally. Tony plays a song at these events that says, "Life will never be the same again!" and that is 100% true. I follow him everywhere, but I think his best channels are his Twitter and Facebook

@GaryVee
This is just an obvious one for me. Want no-bullshit tips to entrepreneurship? Want someone to spit the truth 24/7/365? Follow him. My favorite channels are his Youtube and Instagram.

@CaseyNeistat
This guy is unapologetically goofy, and I love it! He is a professional filmmaker and Youtuber. I love his editing, style, authenticity, quirky personality and how he is always giving back. I follow him on Youtube.

@PatrickBetDavid
This guy is a new one for me and I am still figuring him out. But because a TON of people recommended I follow him, he's on the list. He has a media company called Valuetainment and a Youtube channel that he recently re-started. He seems super knowledgable and entertaining…hence Value-tainment LOL. So I'm following him on Instagram and Youtube.

@JonOlsson1
This kid is new for me, and I'm OBSESSED! I'm totally drawn to his fun personality. He creates amazing videos, travels around with friends, is a professional Skier, and he's an entrepreneur with a travel accessories company called Douchebags. LIT! I'm following him on Youtube and Instagram.

@PeterMcKinnon
I'm obsessed with this dude, too! He is a phenomenal Youtuber. I love his vlogs, style of editing, images, literally everything. So I will be digesting his content HARD. I'll be taking notes in his how-to videos for sure.

@LewisHowes
This guy is super inspiring. He is a new follow for me. His story is he went from being injured in sports, to living on his sisters couch, to building million dollar businesses. It's crazy! He has a podcast called School of Greatness and a book (which i've added to my books to read). So I follow him on Youtube, Instagram, and his Podcast.

@TomBilyeu
I totally feel like this guy is me, in male form, and older. When I was searching him (yes I didn't know who he was) the very first video I saw was of Tom saying, "Welcome to Impact Theory. You're here because you believe that human potential IS nearly limitless… Impact Theory is me answering the question of 'what does it take to influence CULTURE?'… " and I was hooked cause that resonated with me so deep. That's what I want to do; to impact culture, and impact generations. So needless to say I follow him everywhere. He's got a solid Instagram and I really follow Youtube.

@ColinAndSamir
These are two best friends with a smaller following then the other people I've listed so far, but still with 54k followers! I think I can learn a lot from them to create my own vlogs. Especially since they are still growing their channel, it will be cool to see them evolve. So I recommend checking them out on Youtube.

@SimonSinek
What a legend. This dude has a TED Talk that I watched years ago. Now I am reading his book that relates to that TED Talk. Literally he is just filled with wisdom. Follow him everywhere. READ HIS BOOKS! Watch the TED Talk. I'm following him on Youtube and Instagram.

@ChaseJarvis
So this is a new one for me. I still need to dive into his content. But I watched enough last night to know I wanted to keep following and digesting his content. He has a Youtube and Instagram that I'm following.

@JasmineStar
I loved her website aesthetically and instantly wanted to follow her because she was the first woman on my list, and she is a business/branding strategist. I need to dive into her content more though. Check out her website and Instagram.

@DaveRamsey
This is a new one for me. He has The Dave Ramsey Show and I started to watch him chew-up and spit-out this young women for her financial spending habits. He's an older guy who talks about real life and how it revolves around money. He apparently teaches you to manage and budget, which is a good idea for me lol. So I followed his Podcast and Youtube channel.

@RichBitchPodcast
This is a Podcast by Angie Lee and she seems like a no bullshit bitch. I have to dive into her content more. She really only has a Podcast and Instagram to follow.

@WillSmith
MY BOY!!! He recently started a Youtube channel and is KILLING it on there. I was already following it, but now you need to. Definitely a must follow cause his vlogs and life advice are lit. He has a fun Instagram too.

@BeckiAndChris
Super small following compared to the others with only 5k followers on Youtube. But they are a super cute couple starting to travel, vlog, and create videos. I'm following!

@MelRobbins
Not gonna lie, didn't watch much of her content, but Tom Bilyeu interviewed her so I followed. She has a Youtube channel, a great website, and is an author/speaker. So check her out while I check her out 🙂

@KraigAdams
He's a Youtuber and minimalist. I like how his content is simple, to the point, and informational. He travels to which I liked!

@SaraDietschy
Probably one of my FAVORITES on this list because I relate to her so much. Again… there aren't many women on this list. But Sara is a Youtuber and podcaster. I love how she is short, spunky, and a Youtuber in a mostly male dominated space. So I kinda hope to rise to her level because she is interacting with other amazing Youtuber's like Peter and Casey. Super informative and fun channel.

@PrinceEA
Super creative and inspirational. I recommend totally for a good motivational video. Check him out on Youtube and Instagram.

@JayShetty
I came across his videos not long ago and love him so much! I first saw him via a random Youtube video of him on Impact Theory by Tom Bilyeu hahaha. He's a monk, but super insightful and relates to people in a modern way. Coolest monk I know! Follow him on Youtube, Twitter, Instagram, everywhere.

@PeterVoodg
This kid I actually started following on Snapchat a long time ago, then I stopped using Snapchat and totally forgot about him. I don't know much about him except he is a big promoter of business and that hustle life. Follow him on Snapchat and Instagram.

@ChrisHau
LOVE this guys Youtube. Just discovered it 5 minutes before writing this post by a last minute DM I got. Super good filmmaker, knowledgable, and helpful for anyone wanting to get into Youtube.

@TutVid
This is a Youtube channel and website that is literally every graphic design students dream. Tons of tutorials and how-to videos for creating specific design work on all kinds of Adobe programs like Photoshop, Illustrator, Lightroom, etc. I'm obsessed. Wish I discovered this years ago. Follow his youtube and check out his website.

@MadeByMighty
Another graphic design "How-To" Youtuber. He displays his work on Instagram to. Super awesome stuff!
That's it for the people I decided to follow. The full list with scribbles I'll attach below as well!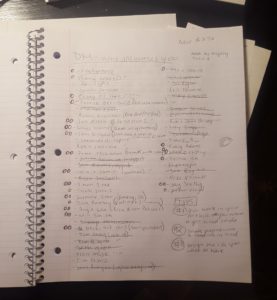 XO, Taylor